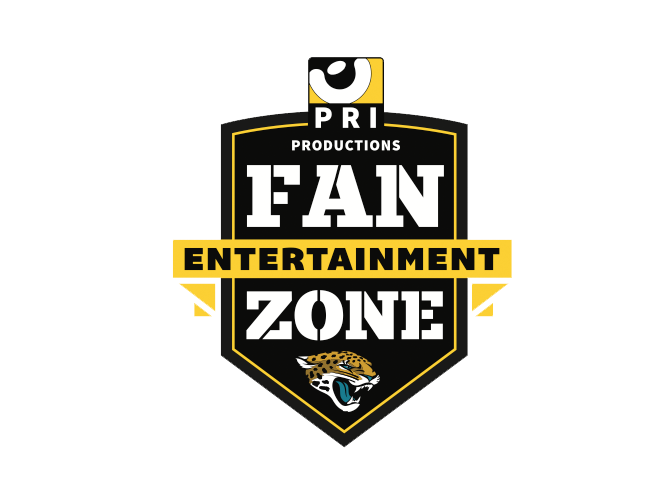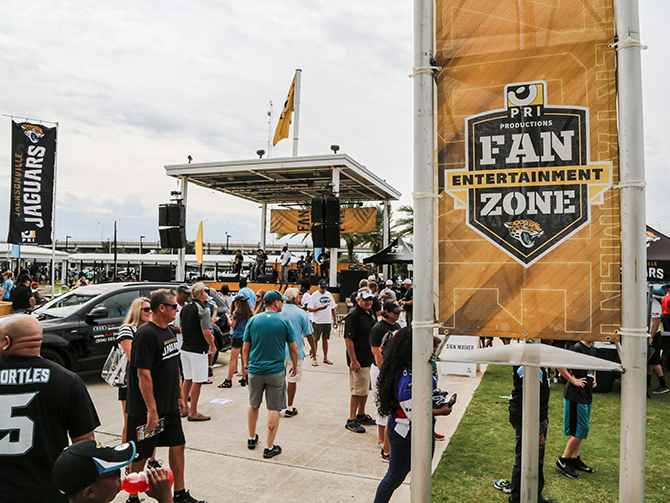 Jaguars PRI Productions Fan Entertainment Zone
The PRI Productions Jaguars Fan Entertainment Zone is a interactive area for fans to enjoy for 3 hours before kickoff on every Jacksonville Jaguars home game. This attraction, affectionately nicknamed FEZ, features live music by renowned local artists, performances by the Jaguars Drumline and Roar Cheerleaders, as well as various football themed games, and interactives.

The identity for FEZ was created to uphold the brand standards of the Jacksonville Jaguars while showcasing PRI Productions as the presenting sponsor; all while delivering a vibrant and fun environment for Jags fans.



Jaguars Gameday Live
Jaguars Gameday Live is an on-site broadcast set overlooking the entire stadium on the Terrace Suites at Everbank Field. Pre-game and in-game commentary is given by Christian Buey and Pride of the Jaguars member, former running-back, Fred Taylor.

The design of the set was constructed to exist as a mainstay during the Jaguars season except for a few special occasions.




Jags Training Camp
The Jacksonville Jaguars pride themselves on the amount of military presence that Jacksonville has. As a nod to servicemen and women and added interactivity in the Fan Entertainment Zone, the Jags had us create Jags Training Camp.

I contributed to the layout design and created the design for the promotional/informal signage.



Jaguars Road Tour Bus
The Jaguars Road Tour Bus for the 2011-2012 season was used at promotional events and road tour pep rallies by the Jacksonville Jaguars.

A montage of players, fans, and military inspired imagery soon became synonymous with a good time had by all at Jaguars Road Tour events.



Interactive Photo Ops
Photo Ops are key to driving fan engagement at Jaguar games. They provide memorable keepsakes and often become traditions for season ticket holders.

Photo op concept, shooting photography for impactful perspective, designing to proper scale and designing for production were challenges that were met to further add to an outstanding exhibit that contributes to why the Jacksonvllle Jaguars have the 'best game day experience' in the NFL.